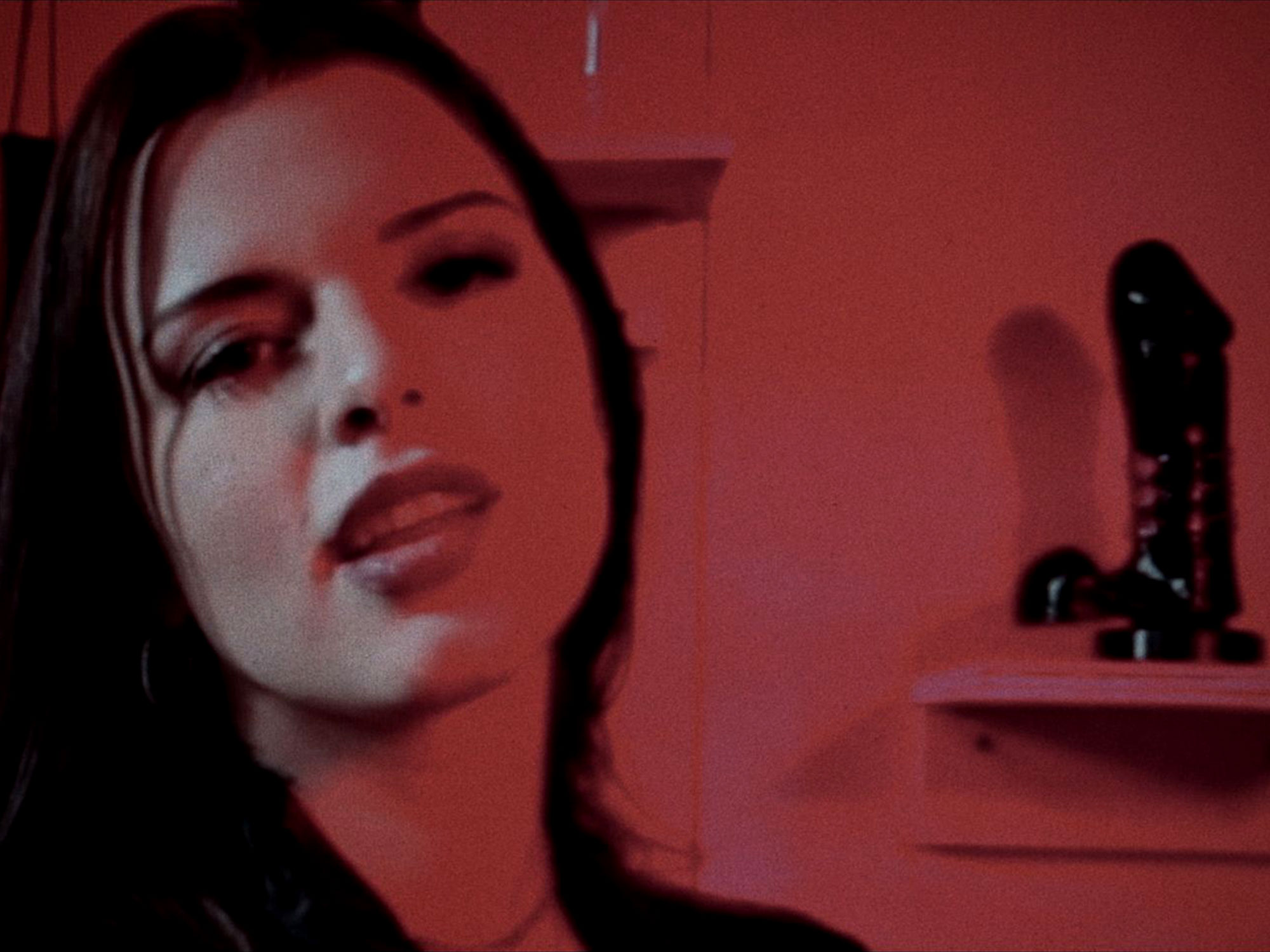 In one of the more attention-grabbing openings in recent memory, PVT Chat begins with a climax, opening on a young man, Jack (Peter Vack), in a dingy apartment, masturbating during a one-to-one session with leather-clad camgirl Scarlet (Julia Fox). They're participating in roleplay, Scarlet commanding Jack to lick her boot and swallow the cigarette end she pushes towards her webcam.
Scarlet says she lives in San Francisco, while Jack lives in New York City. During their deepening nightly conversations where they get to know each other, Jack tells her he works in tech and waxes lyrical about his revolutionary app idea. In fact, his 'profession' is as an online blackjack player, using his wildly inconsistent earnings to pay for his Scarlet time at night, while bullshitting his way into constant rent deferrals for his tattered room and living off cheap noodles.
One night at a Chinatown bodega, Jack sees a woman from afar who looks just like Scarlet. The validity of the sighting is later confirmed by one of his burnout buddies, played by another Safdie brothers alumni, Buddy Duress, near the same bodega. On that note, PVT Chat is written and directed by Ben Hozie, member of punk band Bodega, with his fellow vocalist Nikki Belfiglio appearing onscreen in a supporting role.
Given the currently small pool of camgirl-centred features in the world, one might read a synopsis for PVT Chat and think of the Blumhouse-backed 2018 horror Cam. Written by former camgirl Isa Mazzei and directed by Daniel Goldhaber, Cam follows Alice, who puts on nightly shows rather than participating in private sessions and discovers that her account has been taken over by an exact digital replica of herself. Told entirely from Alice's POV, Cam features a scene where she meets up with one of her biggest-tipping regular viewers, who's been eager to chat in real life, as part of her detective work to solve her doppelgänger dilemma.
PVT Chat almost plays like a reversal of that thread of Cam, telling a story from the viewpoint of an overeager fan who wants to connect to his crush outside of a screen, seemingly incapable of ending a web of lies he spins to make the idea seem plausible to her, if her projected affection and interest is really sincere. While the shift in perspective is a brief jolt when watching, it's not a spoiler to say that, roughly halfway through, Hozie takes the narrative away from solely Jack's POV and allows us to see Scarlet's world from her side of things.
We don't get a sense of Scarlet's camming rapport with patrons outside of Jack, but her one-to-one sessions with him back up the advertisement on her model page: "Domination is my speciality." During the press tour for Uncut Gems, Fox mentioned that dominatrix work was part of her own history, and that autobiographical detail adds an extra layer to her role in PVT Chat. The film's exploration of bonding through kinks also brings to mind Finnish filmmaker J-P Valkeapää's recent Dogs Don't Wear Pants, which concerns the burgeoning relationship between a widowed man and a dominatrix, albeit in-person rather than online.
Like Dogs Don't Wear Pants, PVT Chat refrains from pathologising, sensationalising or mocking practitioners and participants of the activities exhibited, though neither shy away from certain scuzzy factors. Clear-cut moralising would have been an easy route, especially given the unhealthy and criminal activity Jack eventually engages in. But Hozie doesn't make the psychology of either lead character easy to pin down. He instead revels in the complexities of genuine intimacy in an age of digital transactions and constant stimulation, where even in moments of a potential hook-up, or in one case during an apartment break-in, people are inclined to pause to check their emails.
PVT Chat plays as part of Fantasia International Film Festival's digital edition on 25 August. For more info visit fantasiafestival.com
The post A Julia Fox erotic drama explores domination and digital life appeared first on Little White Lies.